Access
Name
Himeji City Mt. Shosha Ropeway
Address
〒671-2201
1199-2 Shosha, Himeji-shi, Hyogo-ken
Phone Number
079-266-2006
Public Transit to the Mt. Shosha Ropeway
Shinki Bus

From Himeji Station

28 min, ¥280

Get on the #8 bus bound for Mt. Shosha Ropeway at bus stop 10 from the Shinki Bus Himeji Station Bus Terminal.

From Himeji Castle

25 min, ¥280

From Himeji Castle intersection, walk on the right side of the road about 100 meters towards Himeji Station. Then get on the #8 bus bound for Mt. Shosha Ropeway from the Himeji-jo Otemonmae bus stop.

From Koko-en Garden

23 min, ¥280

「Cross the intersection by Chokaku Shien Gakko Mae. On your right, you will see the Chokaku Shien Gakko / Koko-en Mae bus stop. Get on the #8 bus for Mt. Shosha Ropeway.
Schedule
*Extended Closure: We will be closed for an extended period during winter for regular inspections and maintenance.
The 2021 suspension will be from Monday, February 8th to Friday, February 26th.
Fares
Individual Fares

| | Adult | Child |
| --- | --- | --- |
| One Way | ¥600 | ¥300 |
| Round Trip | ¥1,000 | ¥500 |
*Set of 11 tickets is sold for the price of 10 one-way tickets
Group Fares

| | General Discount | Student Group Discount |
| --- | --- | --- |
| 15+ people | 10% off | 20% off |
| 100+ people | 20% off | 30% off |
| 300+ people | 30% off | 40% off |
*Fractions of less than 10 yen will be rounded off.
*Please contact Engyo-ji directly for information about mountain trails and admission fees (minibus fares).
The following settlement methods are also available.

* QR payment is not possible in the following cases.
Tickets, souvenirs, etc. that have no amount on the side of the ticket, such as settlement at Yamagami Station, group tickets, etc.
The Trails
About the Mt. Shosha
Shoshazan Engyo-ji, a world heritage site and a national treasure, is located 6km northwest of Himeji Castle. It is a fascinating old temple in the former Harima Province with a rich history dating back over a thousand years. Scenes from "The Last Samurai (2003)", were filmed here. The grand-scale of this temple brought forth strong emotions from the director, and it was the first Hollywood movie made about the spirit of samurai. Recognized as both a world and a natural heritage site, the harmonious blend of culture and nature will surely inspire anyone who visits. We hope you will visit with modesty and a sense of quietude, just like the founder, Shoku Shonin, who showed respect for his monks that dedicated their lives to protecting this mountainous sanctuary.
Mt. Shosha (Engyo-ji) Trails &
Estimated Time
For visits to Shoshazan Engyo-ji's main buildings (Quick Tour)
To and from Sanjo Station:
Approx. 1 hour
Mt. Shosha (Shosha Station)
Sanjo Station
[※(1)]
Maniden at Engyo-ji [※(2)]
[※(1)]
Sanjo Station
Mt. Shosha (Shosha Station)
【POPULAR】For visits to Shoshazan Engyo-ji and
all filming locations (Blue letters)
To and from Sanjo Station:
Approx. 2 - 2.5 hours
Mt. Shosha (Shosha Station)

Sanjo Station

[※(1)]
Maniden at Engyo-ji [※(2)],The Three Halls,Inner Temple
[※(1)]
Sanjo Station
Mt. Shosha (Shosha Station)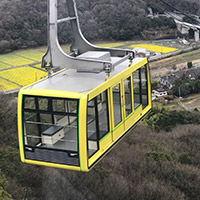 Ropeway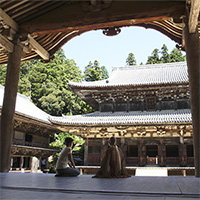 Maniden at Engyo-ji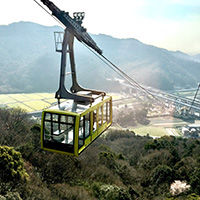 Ropeway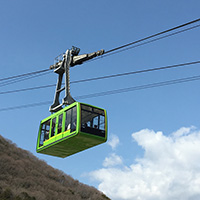 Ropeway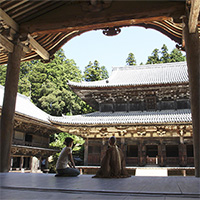 Ropeway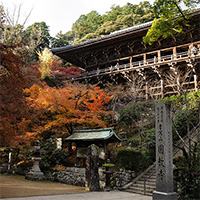 Maniden at Engyo-ji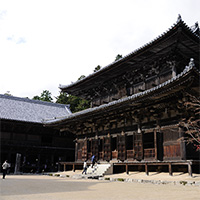 The Three Halls, Inner Temple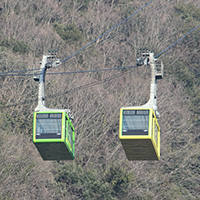 Ropeway
※①Engyo-ji operates a shuttle bus (fare required) from the temple entrance near Sanjo Station to Maniden on the temple grounds.
It takes approximately 5 minutes each way when riding the bus. It takes about 20 minutes each way if you walk the same route. Check here for more details, including operating schedules.
※②Go-shuin (sacred vermilion temple seals) are offered at Mani-den.
About the Mt. Shosha Ropeway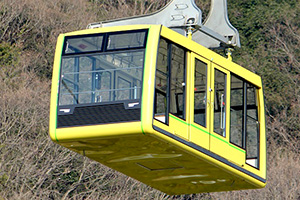 Mt. Shosha, at an elevation of 371 meters, is located to the northwest of Himeji City.
The first ropeway was constructed in 1958. This ropeway used 2 cable cars, named Soyokaze and Sachikaze, that could hold 30 passengers each. In 1992, the ropeway was expanded, and currently operates with 2 cable cars, capable of carrying a maximum of 60 passengers each.
FAQ
Is Engyo-ji near Sanjo Station?

No, it takes about a 25 minute walk by mountain trail to reach Engyo-ji from Sanjo Station. Engyo-ji also operates a minibus from the station (fare required).

Can I reach Engyo-ji by car?

Besides the ropeway, the only way up the mountain is by foot. It is about a 50-minute hike from Shosha Station to Sanjo Station. This trail is not paved, and some parts are rocky and uneven.

Is there anywhere to eat nearby?

Udon noodles, rice balls, and other light snacks are available at Hazuki Tea House, located on the Shoshazan Engyo-ji temple grounds. (Reservation required.) You can also enjoy vegetarian meals and lunch boxes at Engyo-ji Kaikan. A gourmet full-course Japanese vegetarian meal is served in Shosha lacquerware at Juryo-in, a sub-temple of an important cultural property. Yumenosoba (rice bowls and soba noodles) is a 5-minute drive from Shosha Station.
Copyright © 2011-2019 Mt.Shosya Ropeway All Rights Reseved.